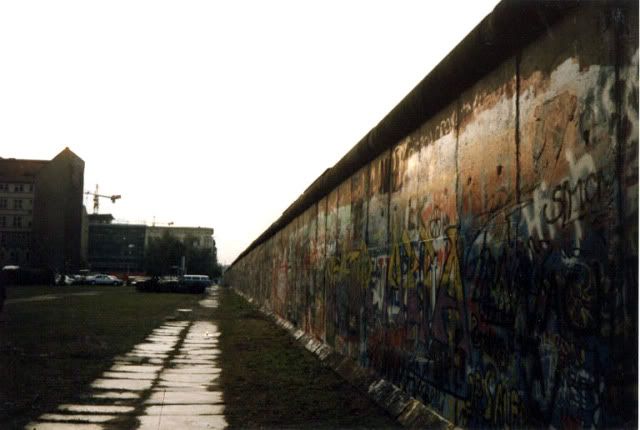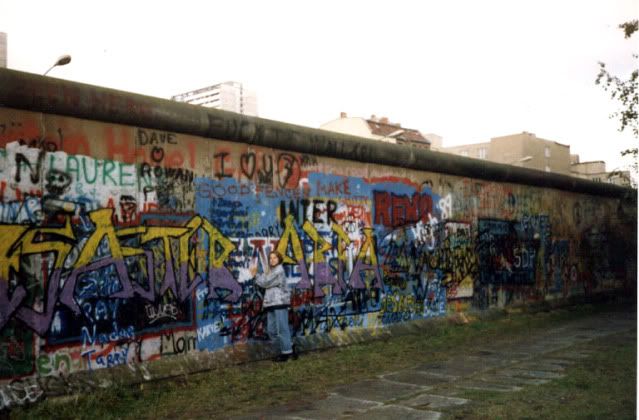 Twenty years ago this month I was living in Munich, Germany.  I can hardly believe that it's been twenty years--it makes me feel so old!  Because in many ways, my memories of those six months in Munich are clearer, more vibrant, more joyful than most of my other high school memories all together. 
One week before the Berlin Wall came down, my class took a field trip to Berlin for the week.  Most of the time was spent in West Berlin, naturally.  After living in Munich, I was less impressed by Berlin.  While Munich was clean, friendly, and safe, Berlin felt much like any other city--busy, dirty, impersonal in many ways.  We stayed in a youth hostel and dyed each other's hair with henna.  We gawked and the McDonald's on the corner (I don't remember any McDonald's in Munich) and got lost in the subway which, unlike Munich's U-Bahn but like every other subway I've ever visited, was dark, somewhat dirty, and smelled of hot metal and old urine.
As a class, we had permission to visit East Berlin for one day.  We gathered at the checkpoint where East German guards with machine guns checked our passports and issued us one-day travel visas.  Strangely, East German visas were not stamped into our passports directly, but onto small sheets of paper which were slipped between the pages of our passports to be collected by the guards on our way out.  We were also required to change 20 West Marks into East Marks, and we would not be allowed to keep it, or change any of it back on our return to the West.  There would be little evidence of our trip to bring home.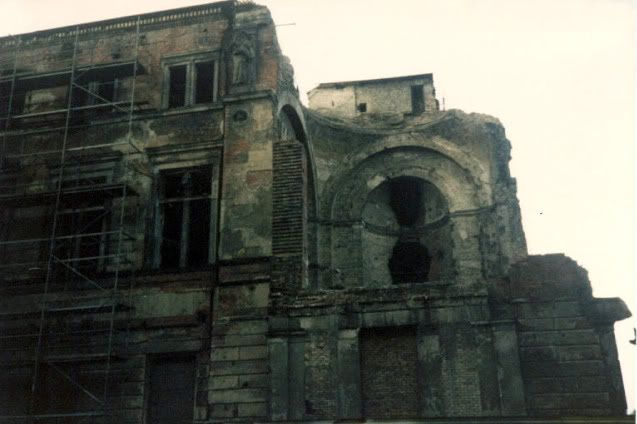 Once inside, it was like we had stepped through the looking glass into a city from the past.  A grey and dirty past. Our clothes and hair were conspicuous for their style, color, and flair amidst so much that was drab and worn.  The buildings were crumbling and dreary, and many structures that had been bombed during WWII still stood in ruins, their crumbling holes like gaps in a mouth full of rotten teeth.  We instinctively lowered our voices as though we were intruders in party dress who had found ourselves accidentally crashing a funeral.
We had all day to spend our money, but there was next-to-nothing to buy.  We tried some coffee, but it was bitter and impossible to finish.  Several people curiously bought East German cigarettes for the novelty of it, only to hack and spit furiously with the first puffs, shaking their heads in disgust. Most packs were given to hopeful-looking East Germans hanging on a corner eying us cautiously.  A couple were kept as souvenirs.   We toured a ceramics factory where I bought a single blue-and-white mug for my mom, mostly because it had some aesthetic appeal and the words "Made in East Germany" were printed on the bottom.  Little did I know the historic value those words would soon have!
We passed several parking lots full of the East German Trabants: cars we called "Trabis".  It was surreal to see lots full of a single kind of car, and streets lined with them, end-to-end in varies states of disrepair.  Many shops were closed, or only had a few items left on dusty shelves.  East Germans we passed on the street kept to themselves, speaking in low, hurried voices with strange, muted inflection.  There were no raucous, laughing groups of youngsters or kids on bikes, or street vendors or musicians.  It was unnaturally subdued and grim.
The day dampened all of our spirits.  It was oppressive just to have to stay for the afternoon.  After choking down a cardboard lunch, we huddled together to count our change.  Many of us still had too much left over, and nothing we wanted to buy.  One of my classmates noticed a few people sitting on the sidewalk outside the grocery.  They looked even more bedraggled than many we'd passed and several of us decided that we would offer them the change in our pockets--they certainly had more need of it than we did!
Their reaction was heartbreaking--such gratitude and honest surprise.  One woman had tears in her eyes. I couldn't imagine living in this dusty, hopeless twilight world. 
A few hours had passed and yet, as soon as we passed back through the checkpoint into the West it was like walking back into the sun after spending the day in a dark theater.  We all found ourselves breathing easier, blinking as though we were just waking up, laughing again, shaking ourselves to get rid of that close, oppressive feeling.  But the taste of that afternoon stayed with us.  I can still taste it, bitter on my tongue, dry and crumbling like rotten plaster  and rusting metal and old dust.
A week later, back in Munich, we got the news that the Wall had fallen.  Friends called their families all over the world, laughing and crying at once. Celebration and disbelief swept the city. Trabis rolled into town, and there were stories on the news of people burning them in celebration.  East Germans began to appear in Munich in little, hurrying knots.  They were as conspicuous on Munich's city streets in their drab, out-dated overcoats and bulging bags as we had been in East Berlin.  Their voices were still hushed and toneless, and the children gawked shyly at everything and everyone.  It was not just the end of an era, it was also the beginning of something new and overwhelming.  I was too young to appreciate the enormity of it all, but I have been forever grateful to have been there during those pivotal months. 
I still can't believe it's been twenty years, though. Twenty years--einen augenblick!
Note: For something a little lighter, check out this 1960's commercial for the East German cars that were so hated when I was there in 1989.  My German is rusty, but among other things, they claim that the car is maneuverable, fast, and tough--what a joke!