It's funny how easy it can be not to see the forest for the trees.  No matter how well-versed we may think we are on a subject, or how perceptive we may be about others, it is remarkably difficult to objectively see ourselves and the ones we hold most dear.  Our perceptions are crowded with feelings, experiences, and that certain, personal, myopic perspective:  this is just who I am, or just who you are, period.  Full Stop.
When it comes to recognizing autism, I have observed this phenomenon in other parents countless times.  I have watched their child or toddler or teen and thought:  wow, the autism is so strong in that child- why don't they see it?  Sometimes, given time and patience, I've had the good fortune to be able to help the parent come to see it.  And sometimes not.  But it's easy to see it from the outside after spending so many years surrounded byautism.  From here, it almost glows sometimes. Luckily, it's also easy to remember not knowing, not seeing; to remember being confused, fearful, and overwhelmed.  To remember all the explanations and excuses one can unconsciously make to avoid seeing what you don't want to see. So I don't push when I see it.  I just try to see out loud, dispel the fear and misunderstanding, and hope that they make the connections along the way. 
When I talk with professionals I find myself asking why can't we do a better job of educating people?  Why can't we help people see this better - parents and professionals alike?  I still don't have a good answer.
But life has a way of keeping me humble. 
In September, both Lexi and Spencer are enrolling in the public school system for the first time so that I can go back to work at least part-time.  In preparation for their transition, I've spent a good amount of time this year in contact with the school system.  We toured their respective new schools.  I got permission for Lexi to participate in the Middle School drama program so that she could get to know the kids who will be in her class next year. I scheduled evaluations for her in case there are any areas where she might need extra time or support.
I requested to have Spencer evaluated for supports, too, since I can clearly tell that he will struggle to learn in a busy classroom setting, will likely need one-on-one instruction and time in a quiet space, not to mention a host of other things.  I outlined my concerns in the request letter I sent to the school.  (I'm including a portion of that letter at the end of this post.  If you read it, you'll notice that I've italicized the parts that should have been standing out to me all along.*)
The school was prompt about setting up our first meeting.  When I arrived, I was met by an entire room full of people: Special Education Teachers, the Speech Pathologist, the Occupational Therapist, the Physical Therapist, the School Psychologist, the Special Education coordinator, the 6th grade classroom teacher, and the Reading Specialist.  It felt familiar, like an IEP meeting without an IEP to review. They pored over my letter and asked scores of good questions.  They were engaging, and enthusiastic about bringing him in to get acquainted.  They enumerated the many evaluations they wanted to schedule, and even wanted to discuss ways to have him begin participation in the school early.  It went extremely well.
Towards the end of that meeting, in an almost off-handed way, one of the therapists commented that she'd gotten the impression, based on my letter, that I was probably interested in having him re-evaluated for autism considering his characteristic traits and the family history.  Was I open to that?
I admit, a part of my brain did that funny head-cocked-to-the-side thing that my dog does when he thinks you've said "cookie" but he's not sure.  What?  Had I indicated that?  Sure, I was open to that.... Good, she replied, because clearly the indicators were there, and having a more complete diagnosis would help them meet all the needs he might have.
I left the meeting almost kicking myself.  Austim.  Of course!  How did I miss it? All these years I'd been marveling at the overlap I saw  between Autism and ADHD because Spencer seemed to have so many of the same issues that the girls had.  And over time, those similarities had only grown stronger.  And yet, because we'd been told at 6 that he did not have Autism, merely ADHD, I had simply shoved all those things into a different box, the ADHD box, somehow ignoring everything I knew about what Autism looks like. Suddenly it all made so much more sense! 

When I got home, I re-read my letter:  I'd clearly described a child with Autism, and even so, I'd missed it.  I kicked myself again for all the time we'd missed, especially in the social arena.  I'd been just as blind to it as those other parents, only I had no excuse.  I know what it looks like.  I'm not afraid of it: I live with it every day!  Sure, I have used a lot of the same teaching and parenting approaches with Spencer that I'd used with the girls, and yes, he'd had OT and PT, but with a diagnosis we could have done so much more.  With a diagnosis, for example, we would have joined a Social Skills group a long time ago, instead of just this year.
This morning we we finally met with the Neurologist and got the official diagnosis of Autism. It wasn't a surprise today, just validation of what we'd finally realized was true all along, a missing piece we'd been missing for years.

This week the journal of Pediatrics came out with a study indicating that a diagnosis of ADHD can delay an Autism diagnosis for years. We're living proof that it can happen even in families who think that they know what to look for.  It can happen even when you've asked for, and gotten, professional evaluations in the past. At the end of our appointment the neurologist said she's not even convinced that he has ADHD at all, but quite probably just misdiagnosed autism all the time.
So, here we are.  As Ellie would say, we got the hat trick: three kids, and three autism diagnoses.  This isn't the earth-shattering discovery it was the first time around.  There were no tears, uncertainty, or anxiety. We laughed and welcomed him to the club. (I might have suggested that we have him jump through The Ring of FIRE, like Nemo did when he joined the tank. "Shark Bait, Ooh- Ha-Ha!")  We're old pros now.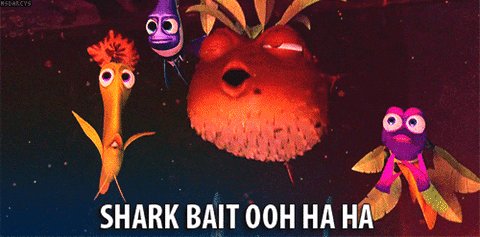 But it does make us one of those extra special families who are all aboard the Autism train.

 *A portion of the letter I sent to the school that should have served as a bright, waving red flag to me:
"Since then, Spencer has made improvements across the board, but he still struggles in several areas.  Specifically, his impulsivity and distractibility are a challenge both in a classroom setting, group instruction setting, and social settings.  His tendency to blurt things out, interrupt, or act inappropriately, along with his poor eye contact, sensory-seeking behaviors, and relative inability to interpret body language make social skills a definite area of weakness. Additionally, he tends to be rigid in his thinking and needs to be pushed to flex and compromise academically and socially.

Spencer's language skills are still sub-par.  He has a fairly extensive vocabulary, but using language is a struggle, both verbally and in writing.  Language syntax and organization are still an issue, and composition continues to be difficult.  He frequently substitutes "stuff" and "thing" for more precise nouns and verbs because he struggles with word retrieval, and he is easily overwhelmed by writing assignments.  More limited and specific writing assignments are better for him than open-ended ones, and each assignment needs to be broken into smaller, manageable steps. 

Handwriting is an area of difficulty as, although he has a proper grip, he uses too much pressure and tires easily.  He is a fairly competent typist, which helps with composition, but still tends to procrastinate.
 Spencer's executive functioning and organizational skills are weak and need continual practice.  He is easily distracted, forgets or doesn't process verbal directions, loses track of items, and has poor time management.  Use of a timer for regular tasks is helpful, but timed evaluations tend to produce excessive anxiety and cause him to freeze and panic."